Step into the future with Bluetooth LE Audio!
By James Taylor – Senior Product Manager at Frontier
Bluetooth is a great success story – it's everywhere! This is largely due to high availability and simple setup and use. Bluetooth LE Audio brings major upgrades.
Bluetooth introduction and audio
Since Bluetooth was introduced in the beginning of this century and added as a standard feature in mobile phones, it has become the main way to connect devices together. Usage really picked up when cars introduced Bluetooth connectivity as standard, allowing drivers to connect and use their phone hands-free. In addition to speaking on the phone, drivers could also stream audio from their phone to the car audio system, which quickly spread outside of the car to other audio systems.
A new Bluetooth LE Audio specification
As Bluetooth has been commonplace in the market for twenty years, there is a limitation that is about to be addressed with the latest Bluetooth 5.3 Low Energy (LE) Audio specification. The simplicity of Bluetooth has always been that it replaces a wire and connects two devices together in a sender/receiver model. With today's commonplace products including multiroom speakers and surround sound systems, the one-to-one connectivity model feels slightly outdated!
Some products in the market have introduced proprietary solutions that solve this problem but will not interop with other devices and have limits on their usage. Bluetooth 5.3 Low Energy Audio introduces a point to multipoint architecture – allowing a sender to broadcast audio over Bluetooth and for an unlimited number of receivers to play out the synchronised audio.
Introducing new use cases including audio broadcast using Bluetooth Auracast
The new point to multipoint architecture opens a raft of new possibilities and use cases for audio products, including a standard way to –
Broadcast audio to multiple speakers at the same time
Pair stereo speakers wirelessly
Share music to multiple speaker/headphones/earbuds
In addition, there's Bluetooth Auracast that allows for public displays to broadcast audio that users can listen to via Bluetooth. This supports use cases including listening to TVs at the gym, hearing airport announcements and listening to public video displays, allowing for people to 'tune-in' to various audio sources throughout their day.
Auracast transmitter direct to listeners
The biggest change that Bluetooth LE Audio brings is the fact that users can listen to a multitude of audios streams without needing a mobile device, which is a drawback today when your phone battery dies or a text message alert ruins your favourite song!
Frontier introduces a Bluetooth LE Audio Auracast module
The engineers at Frontier have been working hard on bringing the latest Bluetooth Low Energy Audio technology to market as part of the new AURIA module, which can be an Auracast transmitter as well as a receiver.
Learn more about our AURIA module.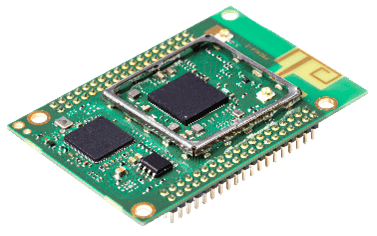 Bluetooth LE Audio and Wi-Fi for new product types
AURIA also includes a Wi-Fi 6 connection to allow for audio to be streamed directly from music providers including Spotify and Apple Music, this can then be transmitted to receivers without a user needing a mobile device.
Pre-set buttons allow for playlists, podcast series or radio stations to be streamed at the touch of a button. The other benefit of Wi-Fi is higher bandwidth, to allow Hi-res audio.
We've been working with the technology for a while now and have had a glimpse of the future of audio with the latest Bluetooth LE Audio standard and we can't wait for products to hit the shelves soon!
Find out more about our product solutions.